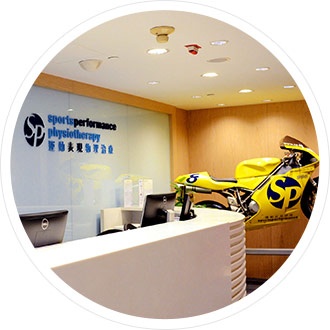 sportsperformance physiotherapy is a unique "one-stop-shop" multi-disciplinary allied health centre, located in Central, on Hong Kong Island, offering treatments for injuries, physiotherapeutic services and specialisation in sports performance.



Physiotherapy
Our registered therapists offer sports physiotherapy, spinal physiotherapy, pre-operative preparation & post-operative rehabilitation, manipulative therapy, clinical Pilates, occupational therapy specialising in hand therapy, podiatry, video aided running assessment, and clinical weight management.

Our belief in a "one-on-one" 40-minute service with an emphasis on active, hands-on treatment allows us to perform thorough assessments and provide appropriate treatment. This is followed by full rehabilitation aimed at clients' recovery and return to their chosen sport in the shortest possible time.
Sports Performance
We offer biomechanical assessments using computerised video technology, including running assessment. Our physiotherapists work with clients to design a personalised programme to correct abnormal movement patterns and enhance overall athletic performance and/or ergonomic problems.
Multi-disciplinary Allied Health Services
sportsperformance physiotherapy offers multi-disciplinary allied health services. We also offer podiatry services including general chiropody, podiatry running assessment, gait analysis, custom orthotic prescription and children's foot conditions.