Tips for choosing running shoes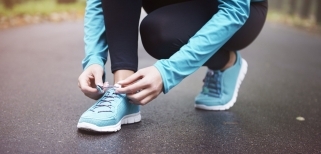 Tips for choosing running shoes
(by Douglas Hornes)
With the Hong Kong Marathon returning to the city later this year, if you are looking for a pair of running shoes, here are some tips for you. One thing we must remember is that all athletes are not the same, so buying a shoe that is worn by an athlete who can run 26.2 miles in around 2 hours is not always the best shoe for you when cruising in your 10K in an hour.
1. Comfort comes first.
If the shoe is comfortable and you have been able to try it a little in the shop, that may be the best shoe for you.
If you put on a shoe in the shop and it is a little uncomfortable but may promise more speed, it is unlikely it will work for you.
2. Do your homework.
There are lot of info out there on what shoes do,whether they are cushioned or for stability, good for heavier runners or for lightweights. With some idea, you can cut down the choice of shoes you may be looking at.
3. Try different lacing methods.
Laces wide feet, narrow feet, high instep etc, different lacings can also affect the fit, try one that works best for you.
4. Give your toes room.
Make sure your feet have a bit of room, kick your heel back in the shoe and make sure there is a thumb breadth between the end of your toes and the end of the shoe. About half a size up is ideal from your normal shoes.
5. Buy your shoes at the end of the day.
As your feet will swell and will mimic what your feet are like after a run buy in the morning and they may be too tight.
6. Not all sizing are the same.
An Asics size 41 may be different from a Nike 41 and may even be different size from another Asics model. So, don't get too concerned with the shoe size number.
7. Double it up.
Buy more than 1 pair, believe it or not 2 pairs rotated last longer than 1 pair worn then another pair worn after.
8. Carbon mid-soled super technical trainers?
It makes you run faster but in general you have to be a better runner to make them work for you. Evidence seems to show that in order to get them go faster, you have to be stronger and have better running form, these trainers are not for everyone.