A guide to choosing the correct sports shoes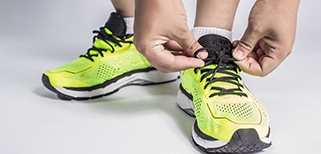 A guide to choosing the correct sports shoes
(by Douglas Horne)
Guide to choosing the correct sports shoes
All sports shoes are not created equal: Jogging /running, trail, gym and hiking shoes may on first look the same but in many ways they are quite different as they are designed to tackle different activities.
Jogging shoes or running shoes: designed for a unidirectional activity running forward, usually on fairly stable surfaces.
Light with a rubber/ composite outsole and a cushioned mid sole with a mesh or knit or now even monofilament 3D printed upper.
Range from lightweight fast 10K racing shoes to very cushioned joggers for a gentle 2k around the park.
Often be classed from neutral, no added stability, to motion control which have loads of features to reduce damaging stresses on your feet and legs.
Trail running shoes: share similar features with running shoes.
The main difference is a stiffer midsole (the cushioned bit) and a more rugged outsole with bigger lugs for better grip on the ground.
The uppers are often more robust and resilient to protect the feet from damage from branches and rocks on the trails and are often more structured to give the foot a snug feel in the shoes, giving the wearer more confidence in their footing on technical trails.
Hiking shoes: built for stability and protection as well as grip.
Usually stiffer and a little heavier than trail running shoes but with a cushioned mid soles to reduce fatigue, a supportive upper and often a hard toe protector.
A grippy sole is a must and lacing options which hold the foot snugly and comfortably. Some shoes offer a slightly raised ankle cuff, providing more ankle support than normal lower profile shoes.
Lots of trail and hiking shoes come in Gore-Tex uppers. These do keep the rain out but can keep the sweat in.
Gym shoes: A lightweight cushioned shoe with a wide, flat outsole with a very stable heel cup is the main feature of the modern gym shoes.
Variable heel drops are available
Depend on what type of your workout: whether it's a circuit session or more Olympic lifting.
Potential problems for choosing the wrong shoes
If you have the wrong shoes, problems may arise:
black toenails form trauma
twisted ankles from trail running in road running shoes
knee pain and hip pain from doing ballistic cross fit exercises in floppy shoes or by walking down Lantaus' steep slopes without properly supportive shoes.
sore feet from hiking in overly stiff shoes which are too heavy for a brisk hike up to the Peak
blisters
Tips for purchasing shoes
Try to buy in the afternoon as your feet may swell slightly and shoes which feel OK in the morning may be a wee bit tight in the afternoon
Get the right size and width. A size 12 US in one brand may be a different size from a size 12 in another brand. Make sure the width is right for you.
Choose the shoe for the activity. If you are going to do a little bit ofgym plus a little running and hiking , look for a shoe which is an all-rounder, with a quite stable and good outsole. Don't try to run a marathon in a pair of hiking shoes.
Take your own socks when trying on. It's not just athletes who have athletes' foot.
To find out which shoes work best for your activities a good choice is to go to see a podiatrist to discuss what you want to do, have a foot and lower limb assessment and go from there on advice from foot shape, foot type and other pertinent issues you have to prevent injuries from your chosen activity.