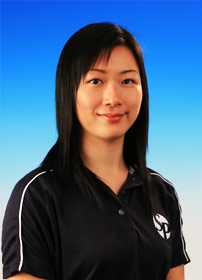 Keff Wong 黃蓓

Physiotherapist
---
Languages spoken: English, Cantonese, and Mandarin
Service location: Tsimshatsui
Keff Wong graduated from the Hong Kong Polytechnic University in 2000. She worked in a private health care group gaining extensive experience in orthopaedics and sports injuries, before joining sportsperformance physiotherapy in 2005.

Keff is a qualified Pilates clinician by Dance Medicine Australia (2003) and Polestar Pilates for Rehabilitation (2011). She is also certified in GYROTONIC® Level I (2012) and a certified yoga instructor by Australian Training for Fitness Professionals (2004). She is skilled in exercise therapy, especially core stability training for neck and back problems, postural re-education and motor control.

Keff is also interested in women's health. She studied courses in pelvic floor muscles training for incontinence, a common problem in pregnant women and the elderly. She regularly teaches pre and post-natal exercise classes.

Keff's other special interest is in acupuncture therapy. She has diplomas in Acupuncture and Moxibustion from the Guangzhou University of Traditional Chinese Medicine (2001) and the University of Hong Kong SPACE (2002) respectively. She has found it extremely effective for muscle relaxation, chronic inflammatory control and pain relief. She has also completed courses in spinal manipulation and work rehabilitation.

Keff enjoys Yoga, Pilates, Tai Chi and modern dance and has participated in these exercises for many years.